'MSIG Biodiversity Trail' leverages digital technology to promote awareness on the importance of protecting biodiversity
MSIG Insurance has teamed up with WWF-Singapore and District Race to launch the MSIG Biodiversity Trail which is available to the public for six months on the District Race app
The District Race app brings cities to life and enables people to improve their fitness by completing virtual checkpoints and in-app challenges located throughout their city
The educational trail showcases fun facts about local biodiversity within the setting of the Singapore Botanic Gardens
WWF-Singapore will lead five exclusive events to guide participants on a fun trail experience through the use of the District Race app
As part of its mission to secure a sound future for the planet, MSIG Insurance has teamed up with WWF-Singapore and District Race to present the MSIG Biodiversity Trail, a community-based initiative aimed at raising awareness about the protection of biodiversity for a sustainable future. Set within Singapore's first UNESCO World Heritage Site – the Singapore Botanic Gardens, the interactive trail is designed to highlight the precious nature of the living world around us, and leverage District Race's experiential technology platform for an enjoyable learning experience.
Biodiversity which relates to the variety of plants, animals and the natural ecosystems on our planet, provide us with essentials like food, drinking water, clean air, medicines and shelter. In the past 40 years, wildlife has declined drastically by 60 percent and is expected to drop further to 67 percent by 20201. The loss of forests contributes to rising temperatures and this in turn adds to climate change, increasing the impact of natural disasters.
Mr. Craig Ellis, CEO, MSIG Insurance, said, "Globally, there is rising awareness of climate change and its drastic effects on our ecosystem. As a leading general insurer whose mission is closely tied to ensuring a sustainable future for all, we see it as our corporate responsibility to help educate the public on the importance of protecting biodiversity. The MSIG Biodiversity Trail is a fun and interactive application, and the Botanic Gardens is the perfect setting to engage the public to learn more about our local biodiversity. As an all-time favourite nature spot for children and adults, we believe the MSIG Biodiversity Trail will enable everyone to enjoy and appreciate the Gardens even more."
Ben Pember, CEO, District Technologies said, "We are excited to partner with MSIG and WWF to introduce a unique and fun exploration experience that motivates the public to lead more active lifestyles, while developing a greater appreciation of their city and its rich biodiversity. The District Race app is designed for anyone and everyone, and we believe that it is a great starting point to motivate people to get out and rediscover what Singapore has to offer."
To access the MSIG Biodiversity Trail, participants need to download the District Race app and check-in onsite at the Singapore Botanic Gardens. This is a free and easy-to-explore trail, which anyone can do individually or with their family and friends.
With no set route or distance, participants can strategise and plan their own routes and experience the MSIG Biodiversity Trail at their own pace.
Guided by the District Race app on their personal mobile device, participants can choose which checkpoints and challenges to attempt in order to maximise the points they can earn within the 60 minutes' session.
More points will be awarded for completion of challenges, as opposed to clearing checkpoints. While attempting these challenges, participants will discover interesting biodiversity facts such as the uses of our native flora and the importance that fauna play in maintaining a balanced ecosystem. To complete these challenges, participants need to hunt for clues in the Botanic Gardens, capture augmented reality scans of the surroundings or showcase their speed and dexterity in short sprints known as time trials.
Ms. Maureen De Rooij, WWF-Singapore CEO, said, "Our planet is losing biodiversity at an unprecedented rate, driven by over-consumption and the mismanagement of natural resources. Businesses can play a bigger role in driving positive environmental change. With MSIG's support, we want to heighten public awareness and action to protect nature, starting with what we have in Singapore."
WWF-Singapore hopes to reach out to 500 people in Singapore through its guided events for the MSIG Biodiversity Trail. The trail highlights the wide variety of plant and animal species at the Singapore Botanic Gardens, including critically endangered species such as the Johore Fig tree and the Tiger Orchid.
For those who prefer to explore the trail on their own time, they can enjoy free usage of this eco-educational experience for six months, up till January 2020. The contents of the trail will be refreshed three times during this period for visitors to experience different aspects of the Gardens.
Please refer to Appendix A for more details of the WWF-led events.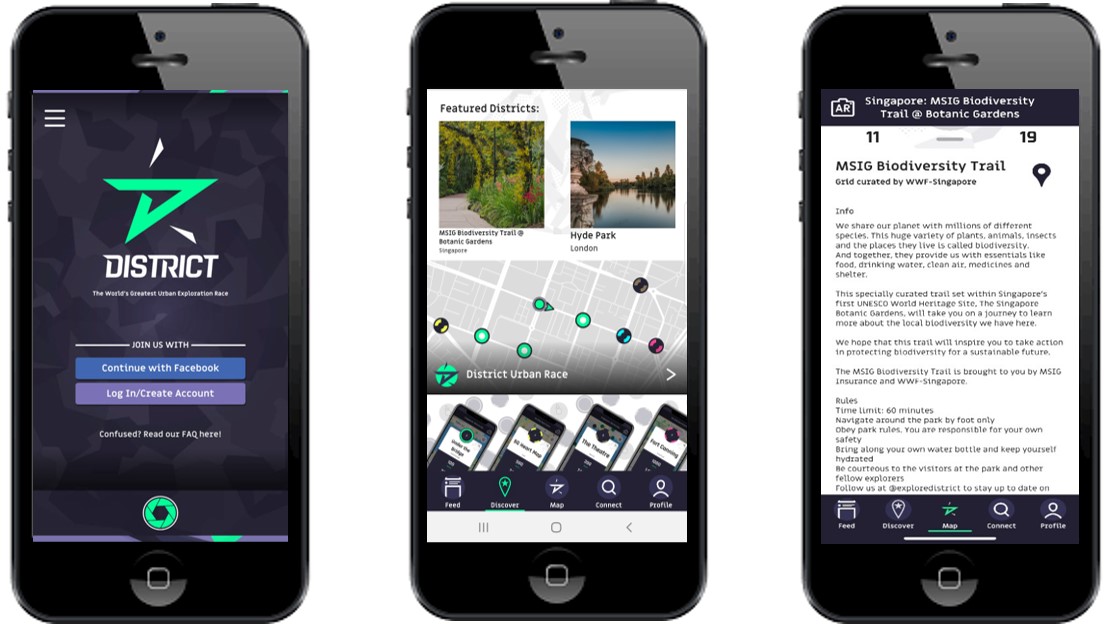 1 According to WWF Living Planet Report, 2018 https://wwf.panda.org/knowledge_hub/all_publications/living_planet_report_2018/
About MSIG Insurance
MSIG Insurance (Singapore) Pte. Ltd. ("MSIG Singapore"), a member of the MS&AD Insurance Group, is Singapore's leading general insurer. With a local presence of over 100 years, MSIG Singapore offers an extensive range of insurance solutions for commercial and personal risk protection, enabling the security and safety of individuals and businesses. Wholly owned by MSIG Holdings (Asia) Pte Ltd, MSIG Singapore holds an A+/Stable financial rating by Standard & Poor's.
A testament to its growing strength and influence, MSIG Singapore has garnered numerous awards for delivering digitally innovative and customer-centric solutions. MSIG Singapore was named Asia's Most Transformative Insurer (2019) by the IDC Financial Insights and The Digital Insurer of the Year (2018) by The Asset, an independent financial research publication in Asia. Other notable awards from leading publications include the Best Electronic Solution (2018) by The Asset; Travel Insurance Initiative of the Year for Singapore (2019) by Insurance Asia; Claims Initiative of the Year for Singapore (2018) by Insurance Asia; New Insurance Product of the Year for Singapore (2018) by Insurance Asia; and Insurer Claims Team of the Year (2016) by Insurance Post.
About WWF (World Wide Fund for Nature – Singapore)
WWF is one of the world's largest and most respected independent conservation organisations, with over 5 million supporters and a global network active in over 100 countries. WWF's mission is to stop the degradation of the earth's natural environment and to build a future in which humans live in harmony with nature. WWF-Singapore's campaigns centre around sustainable consumption, raising awareness and prompting action on issues such as deforestation, haze pollution, seafood sustainability and the illegal wildlife trade.
About District Race
The District Race app is an experiential technology platform that is redefining running and urban exploration through gamification. By combining cutting-edge augmented reality and location-based technology, the District Race app brings cities to life in an immersive urban exploration race.
Explorers can use the app to navigate their way through the city, collecting as many points as possible by clearing virtual checkpoints and challenges. With no set route and set distance, explorers can create their own strategy and choose how they explore their cities.
Go further. Do more. Explore.
exploredistrict.com
Appendix A – WWF-led Event Information
Event

MSIG Biodiversity Trail – Guided Event

MSIG Biodiversity Trail

The MSIG Biodiversity Trail is accessed through the District Race app. With no set route or distance, participants can strategise and plan their own routes to explore the MSIG Biodiversity Trail at their own pace. They can choose which checkpoints and challenges to clear in order to maximise the points they can earn within the 60 minutes' session.

Event Dates

17 Aug, 31 Aug, 21 Sep, 12 Oct and 23 Nov 2019

Event Meeting Venue

The Palm Valley Lawn near the Shaw Foundation Symphony Stage, Singapore Botanic Gardens

Event Time /
Programme

From 9.00 am until 11.30 am

Programme:
0900 – Onsite registration and briefing at the Palm Valley
0930 – Flag off by 4 waves; trail begins
1100 – Trail ends; meet back at the Palm Valley
1120 - Prize presentation for top 3 winners
1130 - Event ends

How to Register

Online Registration via Eventbrite on https://msigbiodiversitytrail.eventbrite.sg

* Registration is required for the WWF-led event only. Admission to the WWF-led events is free and is on a first-come-first-served basis, limited to 100 participants per event.

You do not need to register if you prefer to explore the MSIG Biodiversity Trail on your own (please refer to E-guide below).

Checkpoints 
and Challenges

Points are awarded when participants successfully navigate to a checkpoint or challenge. A checkpoint does not contain any tasks, unlike a challenge.

There are 3 types of challenges – Discovery Challenge, Augmented Reality Scan Challenge and Time Trial Challenge, to test your knowledge about biodiversity, as well as your speed and dexterity.

Checkpoint scores range from 100 to 400, while challenge scores begin at 500 points.

Participants can track their rankings on the live leaderboard in the app during the trail.

Rewards

The Top 20 scorers listed on the MSIG Biodiversity Trail's leaderboard as at 31 January 2020 will win an exclusive MSIG Biodiversity T-shirt each.

Tips for Participants

Download the District Race app in advance and register an account using your email address or Facebook
Wear comfortable sports attire and covered shoes for the trail
Bring along a fully-charged mobile phone with 3G/4G network
Bring along your own water bottle as well as personal medication if necessary

* Please refer to the E-Guide for more packing tips.

District Race app

The app is available for download via the App Store and Google Play.

E-guide

The public can refer to the e-guide to explore the trail on their own at https://www.wwf.sg/business/msigsg.cfm
For more information and media enquiries, please contact:
Carole Chow
Assistant Vice President, Branding & Corporate Communications

MSIG Insurance (Singapore) Pte. Ltd.

+65 6827 7686
Back